Portal Home > Knowledgebase > Virtual Private Servers > Budget VPS > cPanel > WHM Functions > How to change PHP Execution Times
How to change PHP Execution Times
How to change PHP Execution Times:
If you have a script that requires an execution time longer than 30 seconds, such as an import script, then this article is for you.
1. Log in to WHM at :2086
2. On the left, find "PHP Configuration Editor"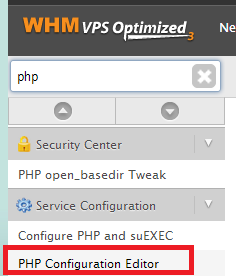 3. Click the editor. On the right, find "Max Execution Time". You will see the default is 30 seconds, make this as long as you feel needed.

4. After you change the value, click "Save"
Try running your script - It should no longer timeout.
Need Additional Help?

Go to "Live Chat" on the Hostwinds web site if you require further assistance.
Add to Favourites
Print this Article
Also Read
How to add an A record to your hosting
(Views: 3751)
How to update/refresh a Softaculous license for VPS
(Views: 4246)
Defnition of VPS WHM Functions
(Views: 6299)
Defnition of VPS WHM Functions
(Views: 6299)
How to update/refresh a Softaculous license for VPS
(Views: 4246)