Portal Home > Knowledgebase > Virtual Private Servers > Windows VPS > How to remote (RDP) into a Windows VPS (Mac)
How to remote (RDP) into a Windows VPS (Mac)
How to remote (RDP) into a Windows VPS (Mac):
NOTE:?If you are?unable to login,?please contact our support department?for assistance.
1.?Open the "Remote Desktop Connection" (RDP) program:
In?Windows, this is found in the?Start Menu > All Programs > Accessories.
On the?Macintosh, the?Remote Desktop?program is installed with?Microsoft Office 2011.?If for some reason this application is?not available in your system,?
it can be?downloaded for FREE?here:?https://itunes.apple.com/us/app/microsoft-remote-desktop/id715768417?mt=12?

Please refer to?this Knowledge Base article?for instructions on using?Remote Desktop?to connect on the Macintosh.
?
1. Start the "Remote Desktop" application. By default, it installs into the OSX dock.
The icon looks like this:
?

?
?
2. Enter the IP address or hostname of the VPS here, and click "Connect".
?

?
?
3. Enter "administrator" for the username. The password is provided on the "Welcome Email" for the VPS. The domain field should contain the IP address or hostname.
? ? If you check the "Add User Information?to your Keychain" box, your login settings will be saved in OSX, and you will not need to enter them again.
? ? Click "OK" to make the remote connection.
?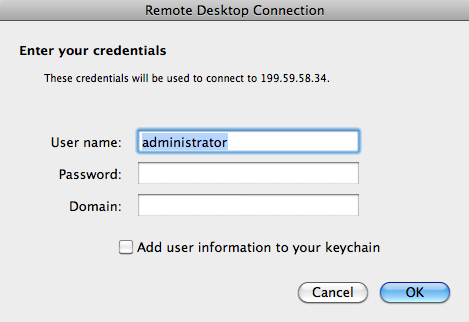 ?
You should see the Windows Server desktop now.?
You may toggle the "Full-Screen" option by pressing Command+2.



Need Additional Help?

?Go to "Live Chat" on the Hostwinds web site if you require further assistance.

?
Add to Favourites
Print this Article
Also Read
How do I customize my server's configuration?
(Views: 3894)
How to change a Windows VPS password (Server 2008)
(Views: 4029)
How to install Windows zPanel X
(Views: 11556)
How do I order additional IPs?
(Views: 3811)
How to install IIS on Windows VPS
(Views: 5927)