Portal Home > Knowledgebase > Virtual Private Servers > Budget VPS > How to SSH into your VPS
How to SSH into your VPS
How to SSH into your VPS:
(Command line access)
1. Download an SSH Client like Putty
2. Enter the IP address we provided in you initial e-mail into the "Host Name" field (as seen below)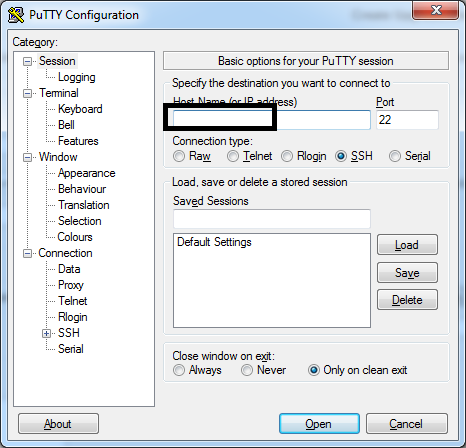 3. Type root for your user name
4. Type your password that was included in your initial "Welcome E-mail".
Need Additional Help? Go to "Live Chat" on the Hostwinds web site if you require further assistance.
Add to Favourites
Print this Article
Also Read
How do I customize my server's configuration?
(Views: 3580)
Is there a FREE alternative to cPanel?
(Views: 5443)
What is the difference between a Budget and Premium VPS?
(Views: 4821)
How do I order additional IPs?
(Views: 3477)
What are my Operating System Options?
(Views: 3677)