Portal Home > Knowledgebase > Virtual Private Servers > Budget VPS > How to SSH into your VPS
How to SSH into your VPS
How to SSH into your VPS:
(Command line access)
1. Download an SSH Client like Putty
2. Enter the IP address we provided in you initial e-mail into the "Host Name" field (as seen below)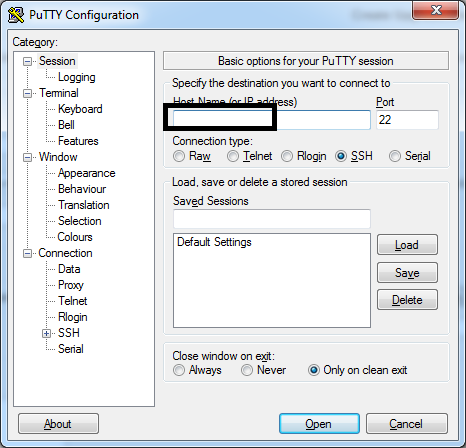 3. Type root for your user name
4. Type your password that was included in your initial "Welcome E-mail".
Need Additional Help? Go to "Live Chat" on the Hostwinds web site if you require further assistance.
Add to Favourites
Print this Article
Also Read
What are my Operating System Options?
(Views: 3970)
Hostwinds Tiers of Support
(Views: 10555)
How do I customize my server's configuration?
(Views: 3894)
How do I upgrade my server?
(Views: 3710)
Is there a FREE alternative to cPanel?
(Views: 5806)