Portal Home > Knowledgebase > Virtual Private Servers > Windows VPS > How do I control my VPS?
How do I control my VPS?
To control your VPS, login to your client area, and navigate to the following link.


Select view details for your server that you wish to apply changes to.
From here, you can scroll down and you can view the available options for your server.

Console - Is disabled for Budget VPS, however is enabled for our Premium and Windows
servers

Reboot - This power cycles your server, turning it off and on again.

Shutdown - This shuts your server down, not bringing it back online

Rebuild - This allows you to have your server reinstalled with the OS of your choosing

Delete - This opens a cancellation request for your server, you can choose to have your
server cancelled immediately or at the end of the billing cycle
Change Hostname - If you click the Change button next to your hostname, you can
change your server's hostname

Root Password - There are two options here, you can choose to Show your current root
password, or you can choose to Change your root password. Please note, these options are
only available for our Budget VPS


Below these options you can also view your usage graphs, how much memory is currently being used,
how much Hard Drive Space is being used presently. As well as traffic and load average graphs.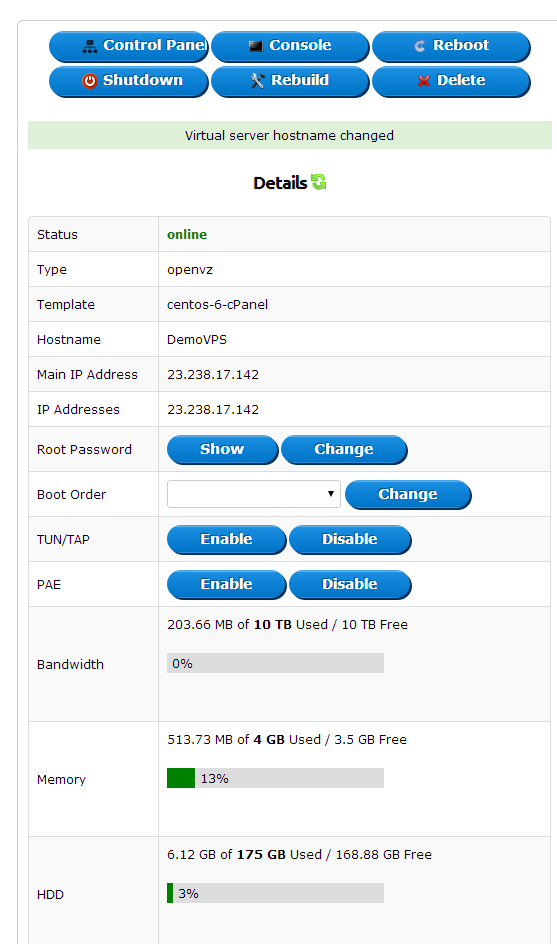 Add to Favourites
Print this Article
Also Read
How to remote (RDP) into a Windows VPS (Win)
(Views: 9457)
Is there a FREE alternative to cPanel?
(Views: 5577)
What are my Operating System Options?
(Views: 3781)
How to SSH into your VPS
(Views: 9575)
Change Windows VPS Hostname
(Views: 854)