CPanel is a fully featured web-based control panel that allows you to manage your domain through a web interface.
The idea is to transfer as much of the control and responsibility of managing your web site to you.
You have the ability to manage all aspects of e-mail, files, backup, FTP, CGI scripts, and web site statistics.

Access Your Control Panel:
There are many ways you can access your cPanel. The first of which is adding /cpanel to the end of your domain. For example, if your website name is website.com, you may try website.com/cpanel
If this does not work and you are on a shared, business, or reseller account, for example if your domain name is not setup yet, then you may browse to the shared address and login there. You may find this by navigating to your client area and logging into .hostwindsdns.com/cpanel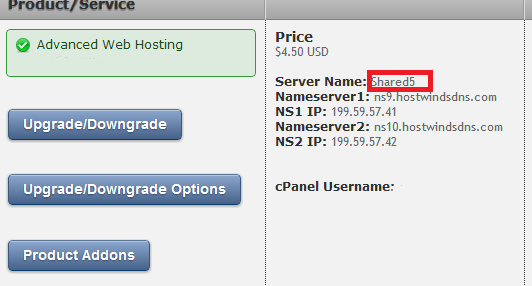 For example in the above image, the web address would be http://shared5.hostwindsdns.com/cpanel
If you are on a VPS, then you may browse to:
VPS Clients:
http://yourIP:2082
For a secure connection:
https://yourIP:2083

You should have received your login information in your "Welcome E-mail" upon signup.
Note: Should you not have it or would like to request it be reset, please contact us and we would be happy to re-send your contact information.