Portal Home > Knowledgebase > Control Panels > cPanel > Getting Started > How to change a user's password
How to change a user's password
How to change a user's password:

If you have a cPanel account or a client who cannot log in to their cpanel on your server, you may follow these steps to reset the password for them.
1. Log into WHM with username "Root", and the password from you client profile. This may be done at YOURWEBSITE.com:2086
2. Type "List Accounts" in the top-left box labeled "Find"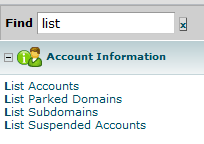 3. Search for the cPanel account you wish to reset the password for
4. Click the + sign next to their account and enter their new password in the box below. Then click "Change".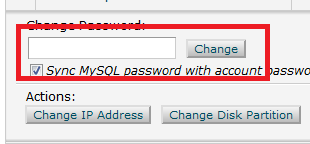 Need Additional Help? Go to "Live Chat" on the Hostwinds web site if you require further assistance.
Add to Favourites
Print this Article
Also Read
How to access your Cpanel
(Views: 11722)
A Beginners Guide to cPanel
(Views: 6032)
The Shared/Business Quick Start Guide
(Views: 5092)
How to access my Email
(Views: 7622)
How to create an Email account in cPanel
(Views: 7376)