Portal Home > Knowledgebase > Web Hosting > Shared Hosting > Domains > How to create a subdomain in cPanel
How to create a subdomain in cPanel
How to create a subdomain in cPanel:
To create a subdomain, such as subdomain.example.com, follow these steps:
1. Log into cPanel
2. Find the "subdomains" link under the "Domains" section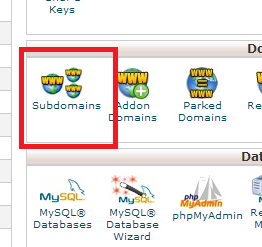 3. Enter in the subdomain you want to create.
In this example, we have used "example" creating example.maindomain.com
FTP in or use Filemanager to upload website files to the "example" folder we created and you are good to go.
Need Additional Help?

Go to "Live Chat" on the Hostwinds web site if you require further assistance.
Add to Favourites
Print this Article
Also Read
How do I add a domain to my hosting?
(Views: 12623)
How to get the IP address of your domain
(Views: 2962)